​
37% of Irish Employers are Planning on Hiring New Staff in Q2 2023
​​Irish employers continue to hire strongly, but more than four in five are struggling to attract talent according to the latest ManpowerGroup Employment Outlook Survey. In the second quarter of 2023 the national hiring Outlook is +22%, down three percentage-points on last quarter and down eight percentage-points year-on-year.
The ManpowerGroup Employment Outlook Survey is based on responses from 408 employers across Ireland. It asks whether employers intend to hire additional workers or reduce the size of their workforce in the coming quarter. It is the most comprehensive, forward-looking employment survey of its kind in the world.

81% of Irish employers are having difficulty finding skilled talent, the highest figure recorded since the survey began. The Transport, Logistics & Automotive sector reports the greatest difficulty finding talent (+90%), followed by Energy & Utilities (+88%), and Health Care & Life Sciences (+86%).
"Businesses in Ireland are experiencing the worst talent shortage on record." said John Galvin, Managing Director, ManpowerGroup Ireland. "Businesses are proactively trying to hire, but more than eight in ten are struggling to find the talent they need, more than at any other time in the past two decades ManpowerGroup has been tracking talent shortages. This is set against a backdrop of decreasing job applications, increased job-hopping, and increasingly higher salary expectations from candidates." "To attract skilled talent in a talent scarce market, we are seeing businesses offering increased salaries across all levels. Data shows an increase of 16% for the €20k plus salary range, 20% increase for the €40k plus range, and an increase of 24% for jobs paying over €100k. This is substantially higher than the 7.8% inflation rate".

The Information Technology sector is recording the highest increase in optimism of any sector, with +32% of employers intending to hire, up 23 percentage-points on last quarter. Taking the rest of the top spots are Healthcare and Life Sciences (+42%), Finance & Real Estate (+34%) and Transport, Logistics & Automotive (+33%).
"The Tech sector is coming back to life" explains Galvin. "Renewed optimism is revolving around Ireland's positive economic growth projections for 2023 and the cooling of interest rate increases. However, with the talent shortage at a record high, candidates can afford to be very selective over the roles they choose, with 79% of IT companies reporting difficulty finding skilled talent."
Employers in Dublin report a hiring Outlook of +25%, down two percentage-points on last quarter and a decline of four percentage-points year-on-year. Leinster (9%), Connaught (+15%), Munster (+30%), and Ulster [Cavan, Donegal & Monaghan] (+35%) all report positive Outlooks.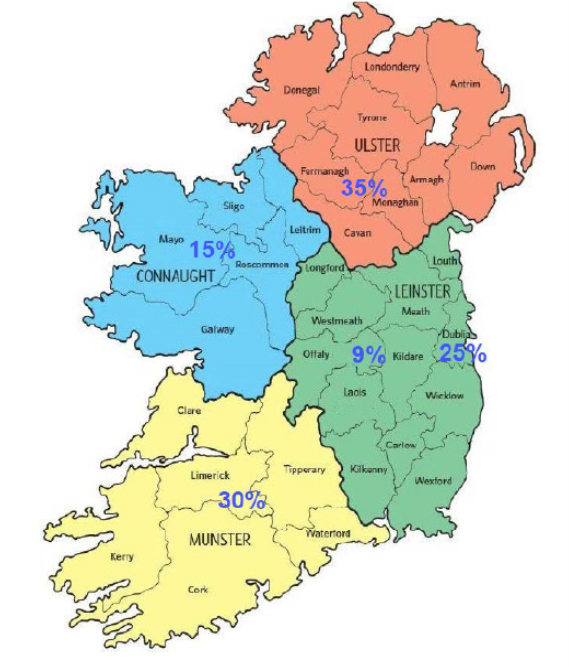 82% of employers in Dublin report difficulty finding skilled talent. Across the regions, Munster (86%), Leinster (83%), Ulster [Cavan, Donegal, and Monaghan] (81%), while Connaught reports the least difficulty (59%).
Galvin continues: "We have seen a slight decline in Dublin's employment Outlook, with our data showing job advertisements down 12%. However, hiring across the Capital remains strong – nowhere more so than in the Healthcare & Life Sciences sector, where more than half the employers in the industry are looking to hire. Despite this hiring optimism, the Healthcare & Life Sciences space is having some of the greatest difficulty finding the talent that fits their needs."

​
​ManpowerGroup forecast a decline in hiring Outlook for micro-businesses in Ireland for Q2, with 22% of businesses with ten employees or fewer intending to hire, down 22 percentage-points on last quarter. Meanwhile, large businesses with over 250 employees have increased their hiring plans, with30% intending to hire, up nine percentage-points on Q1. 72% of micro-businesses report difficulty finding skilled talent, compared to 88% of small businesses with 10-49 employees, 81% of medium-sized businesses with 50-249 employees, and 79% of large businesses.
"We know that salaries are increasing in most sectors, and larger employers have the greatest ability to absorb salary increases. Employers may also be reducing headcount in non-essential roles in order to pay for the salaries needed to meet the expectations of highly skilled talent. This is more challenging for smaller businesses who have less headroom to downsize while remaining operational. Despite this, businesses of all sizes remain optimistic going into the second quarter." concludes Galvin.