Build, Buy, Borrow, Bridge
​
For over 55 years, the ManpowerGroup Employment Outlook Survey (MEOS) has asked employers across the globe how they anticipate hiring to change at their organisation in the next quarter. For the Q3 2021 survey, we interviewed a representative sample of over 45,000 employers in 43 countries and territories globally , including Ireland. Although the results are, unsurprisingly, heavily influenced by the pandemic, there's plenty to be optimistic about.
In Ireland, there are encouraging signs for job seekers, with a Net Employment Outlook of +15%, the strongest hiring sentiment reported in six years and the strongest growth of any European country. The data also demonstrates growing confidence among employers as the global crisis evolves, with hiring intentions improving by 13 percentage points in comparison with the previous quarter, and those intentions are 20 percentage points stronger when compared with data from this time last year, when COVID-19 first had an impact on hiring sentiment.
But we still have significant challenges to overcome. The skills shortage continues to affect organisations across every industry, as they struggle to find the right talent with the necessary blend of technical and soft skills. In fact, talent shortages are at a 15-year high and the Ireland is facing one of the largest talent shortages in the world, with 78% of employers reporting difficulty in filling jobs, compared to the global average of 69%.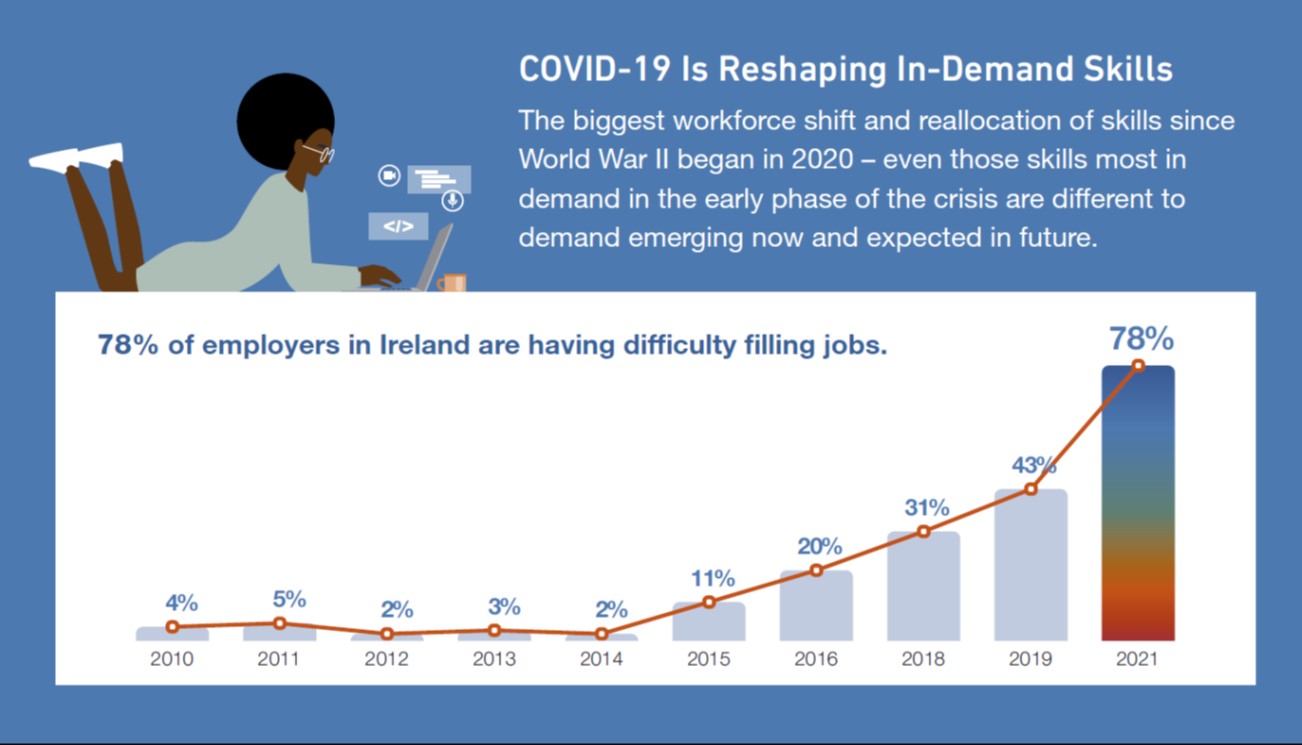 ​
As ManpowerGroup's latest Talent Shortage Reporthighlights, Operations and Logistics, Manufacturing and Production, IT and Data, Sales and Marketing, and Administration or Office Support are the top five most in-demand skills globally. Employers are increasingly searching for people who have the hard skills required for those positions, but also the relevant soft skills – in times of rapid transformation and uncertainty, these soft skills are more important than ever in workers and leaders. In fact, several employers reported wanting candidates with hard-to-find soft skills that they could train or upskill in the respective hard skill areas they were recruiting into.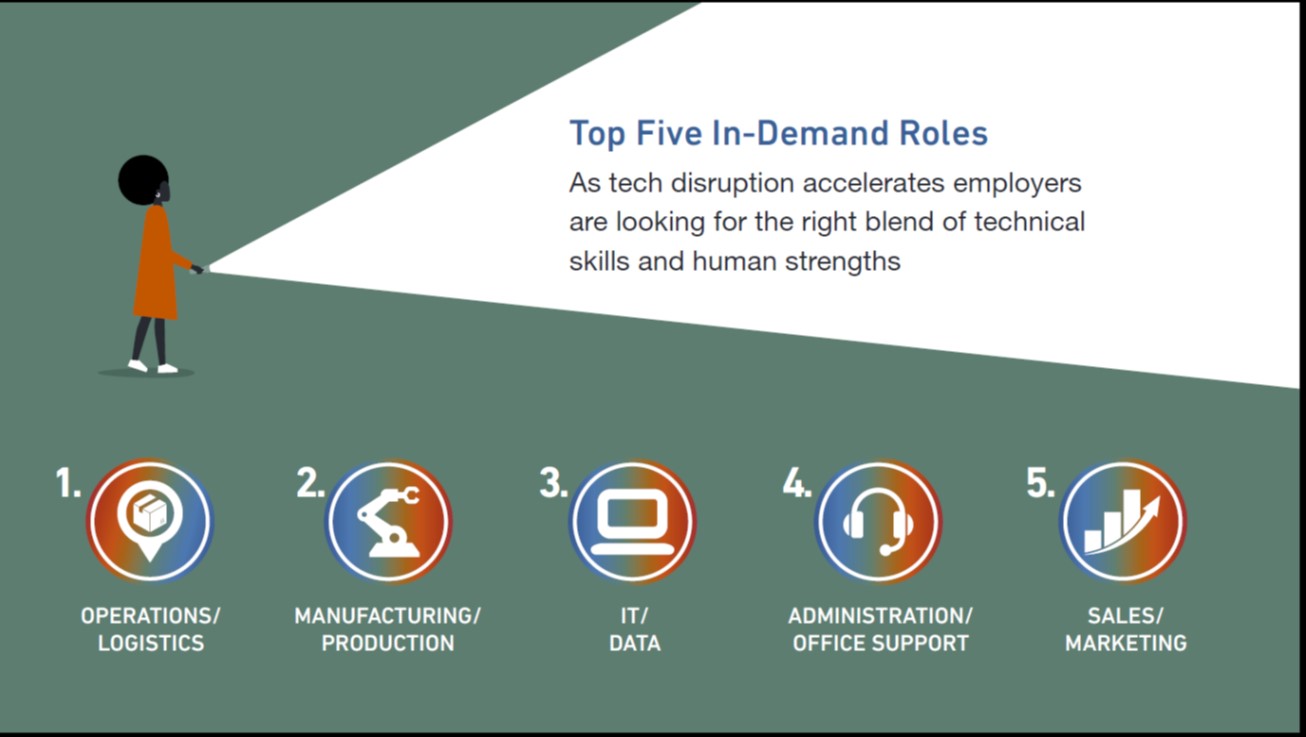 ​
Employers reported that the top five most difficult soft skills to find are:
Accountability, reliability and discipline

Resilience, stress tolerance and adaptability

Leadership and social influence

Critical thinking, analysis and problem solving

Taking initiative
​
But how can organisations who are recruiting this specialist talent ensure that they are not negatively impacted by these shortages? As the global leader in professional resourcing and workforce solutions, working with over 80% of the Fortune 500, we have a deep understanding of the most effective workforce strategies in the digital age. To help you build your specialist talent pipeline, we propose four key areas that organisations need to develop for an effective talent strategy.
​
1. Build – Invest in learning and development to grow your talent pipeline
With specialist professionals becoming increasingly difficult to source in the external market, many organisations are developing the talent they need in-house. Consider providing meaningful upskilling opportunities for your current workforce that align with the skills your business needs, and encourage everyone to take personal responsibility for reskilling and engaging in continuous learning.
Businesses must use data to make informed decisions about training requirements: improved people analytics, psychometric assessments, predictive performance and AI can help employers to identify skills gaps in their workforce, before upskilling their talent to plug those gaps.
This development approach can create a positive experience for the employee, encouraging them to stay with the organisation for longer as they learn and progress in their career.
​
2. Buy – Go to the external market to find the best talent that cannot be built in-house in the timeframe required
Sometimes the speed at which business critical projects need to be delivered means that organisations don't have the time to upskill a current employee. Instead, you need to deploy someone who already has the right capabilities to fill your skills gap.
In the most competitive, specialist markets, such as IT and engineering, employers need to work even harder to attract talent. This includes developing and showcasing a strong employee value proposition, a clear purpose for the organisation, commitment to social responsibility and a diverse workforce. Employers could also expect to pay a premium by offering a higher salary or other rewards.
​
3. Borrow – Cultivate communities of talent, including part-time, freelance, contract and temporary workers to complement existing skills
When you require talent for a short-term project, consider all the possibilities of who could fill that need to enhance the skill sets already established within the team. Whether it's people from another area within your organisation taking up a secondment or global mobility programme, or external talent looking for remote, flexible or temporary/contract work, talent management solutions will be increasingly beneficial.
​
4. Bridge – Help people move on and move up to new roles inside or outside the organisation
Finally, assess whether workers can be reallocated to different areas of your business or whether they need help moving on and up to new roles –be that within your organisation or elsewhere. This is particularly important for roles which are becoming redundant – an important consideration after The World Economic Forum reported that humans and machines will split work-related tasks 50:50 by 2025, and organisations should work to identify and nurture talent with transferable skill sets.
Done effectively, this approach will help the organisation to optimise the skills they have and find alternative pathways for those whose skills no longer fit the business requirements.
"Helping people to upskill and reskill for in-demand roles remains the defining challenge of this decade. It was important before the pandemic and even more critical now – to create a better and more equitable workplace where everyone is able to unleash their full human potential." – Jonas Prising, ManpowerGroup Chairman and CEO
To find out more, download the Full MEOS Q3 2021 Report, or to learn how ManpowerGroup can help with your talent shortages, Contact Us Today.
​