​Technology Firms Lead the Way as Employers Embrace Hybrid Working in Ireland for Q2 2022
​
IT and Tech sector lead hiring intention with 42% of employers looking to hire new talent

Dublin employers now hiring more remote workers from outside the Capital, driving up placements in Ireland's regional economies

Ongoing talent shortage leaves employers struggling to fill jobs in Q2
DUBLIN, 22 March 2022– Irish employers report highest Q2 hiring intentions since the survey began in 2006, according to the latest ManpowerGroup Employment Outlook Survey. In the second quarter of 2022, employers plan to expand headcount significantly, driving the national hiring Outlook to +32%, an increase year on year of 29 percentage points.
The ManpowerGroup Employment Outlook Survey is based on responses from 411 employers across Ireland. It asks whether employers intend to hire additional workers or reduce the size of their workforce in the coming quarter. It is the most comprehensive, forward-looking employment survey of its kind in the World.
​
​

​
The Irish Technology & IT Sector continues to perform strongest with an Employment Outlook of +42%.
"The Irish Tech sector has been a leading light in our post-pandemic economic recovery" said John Galvin, Managing Director, ManpowerGroup Ireland. "The pandemic has revolutionised the use of Technology and IT across all sectors, which has driven up demand for tech skills in companies across the board. The Tech sector had been an early adaptor of remote working prior to the pandemic, and we're seeing tech companies continue to offer remote and hybrid work opportunities as offices have reopened. At a time when employers are facing a talent shortage, this is an important consideration in making new job opportunities candidate friendly and diversifying your talent pool to attract the right candidates.
​

​
​
Employers in Dublin report a hiring Outlook of +29%, up 22 percentage points year on year. Outside the Capital, Connaught (+32%), Leinster (+35%), and Munster (+36%) follow this positive trend of strong hiring intention.
Galvin explains: "In previous quarters we saw Dublin recovering swiftly, in large part due to its larger international employer base. Now we're seeing other regions catch up, partially due to the winddown of lockdown restrictions, and in no small part the strong demand for hybrid work opportunities from candidates meaning people can work from home anywhere in Ireland where previously they would have needed to commute to Dublin for their daily work schedule.
​
Seasonally adjusted unemployment levels in February 2022 was recorded at 5.2% by the CSO, down from 7.5% for the same period in 2021. Despite this, 72% of employers are having difficulties filling vacancies, just 6% less than Q1.
Galvin concludes: "The unemployment level is back to pre-pandemic norms, but demand for talent is three times higher. This means there aren't enough skilled workers available in the marketplace to meet the demand. Fixing an ongoing talent gap like we're facing in Ireland will not happen overnight, nor will it be solved by simply offering higher wages. It's a candidate market now, so employers need to be looking at long-term solutions to find the talent they need. Improving your company's Employee Value Proposition (EVP), upskilling existing workforces, creating more internal opportunities, and making new job opportunities candidate friendly through flexible benefits like hybrid and remote working arrangements are all key in maintaining competitiveness in the marketplace."
​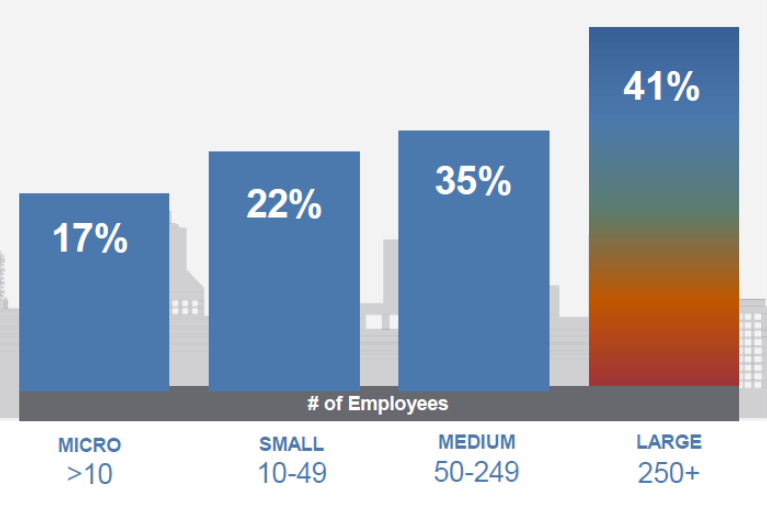 Irish Hiring Plans by Industry and Region
​
Nationwide, all industry sectors report positive Outlook.

​

Across the sectoral breakdown we see the following: IT, Tech, Telecoms, Communications and Media (+42%) Other Industry (+36%) Other Services (+34%) Banking, Finance, Insurance and Real Estate (+32%) Restaurants and Hotels (+30%) Education, Health, Social Work and Government (+29%) Manufacturing (+28%) Construction (+23%) Wholesale and Retail Trade (+22%)
​
When compared with Q1 2021, Outlooks improve in both Manufacturing (+7%) and Other Industry (+3%) and remain consistent with Banking, Finance, Insurance, and Real Estate (+0%). Outlooks have decreased in Other Services (-2%) IT, Tech, Telecoms, Communications and Media (-9%) Restaurants and Hotels (-13%) Education, Health, Social Work and Government (-21%) Construction (-25%) and Wholesale & Retail Trade (-47%). Even where the drop has been significant, Outlook remains extremely high compared with typical pre-pandemic levels.

​

From a regional perspective Outlooks in Munster were (+40%), Leinster (+33%), Connaught (+33%), Dublin (+29%), Ulster (+15%). Compared with last quarter, Connaught (+14%), Munster (-6%) Ulster (-11%) Leinster (-11%) Dublin (-18). It is notable that Dublin experienced higher Outlooks quicker than other regions and is now plateauing.
​

​
​
Paul Howard - Marketing Manager, Experis Ireland. [email protected]. 01 6455232