​​Digitisation is changing the old work order. The pandemic has pushed all businesses online, so nearly every company is now a tech business and companies can no longer afford to avoid pursuing a strong digitisation strategy. The Tech Revolution has gathered incredible pace – 38% of organizations have accelerated their digitisation as a result of the pandemic and 86% of those plan to increase or maintain their hiring levels as a result. The companies digitising most are leading job creation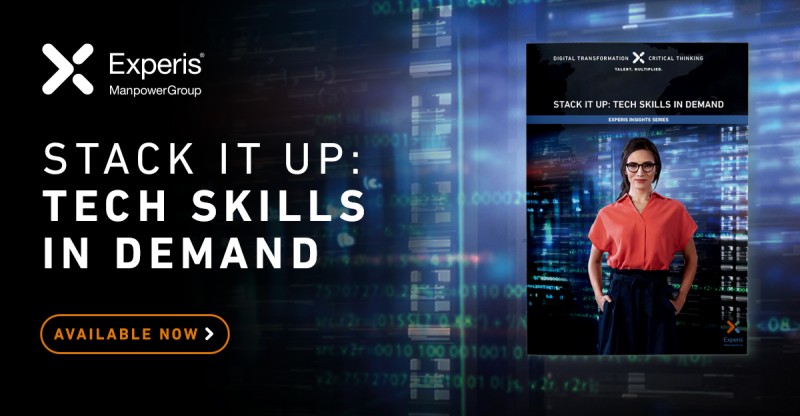 ​
At the same time, acute skill shortages continue – in cloud, cyber security, system and software engineering, software development, data analysis and more. Nearly two-thirds (64%) of companies globally acknowledge their current workforce lacks the skills required to implement digital transformation strategies and capitalise on growth potential.
Companies must develop sophisticated, competitive workforce strategies to ensure they have the specialised IT talent that their organisation needs. New skills are emerging as fast as others are declining. Demand for cloud native developers, experts in containerization, security architecture design, machine learning and AI already outweighs availability. Nearly two-thirds (64%) of companies do not have the skills required to implement their digital transformation strategy and capitalize on growth potential.
The latest whitepaper in the Experis Insights series, 'Stack It Up: Tech Skills in Demand', is now available for download and will help demystify what is currently being seen in the market, as well as the changes companies are looking to make by 2025 to accelerate digitisation.
​